We visit Scotland best golf resort..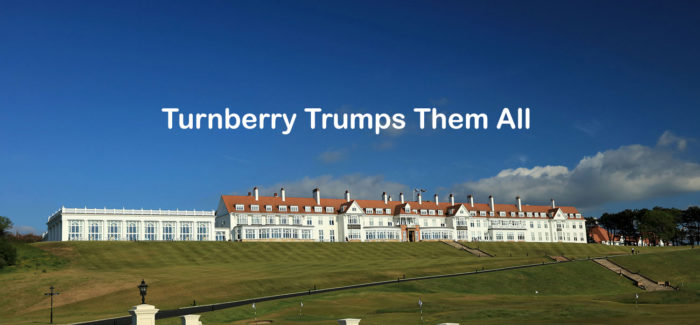 Editor John Hill experiences a nice Scottish revolution..
President Donald Trump has lived up to his promise by starting to sort out America's decaying rust-belt steel and mining areas – and now his family, is quietly re-invigorating Scotland's own wastelands in Ayrshire with the refurbing of the world-famous Trump Turnberry golf resort on the beautiful West coast.
Forget British TV channels and their anti- Trump fake news – you won't find many in Ayrshire who run down the Trumps -already among the county's biggest employers, and treated with the greatest respect by all we met. And all this in the Scottish Nationalists' heartland, and Britain's hard-man region which has Britain's toughest towns,  and boasts greats such as Braveheart William Wallace, TV inventor James Logie Baird, McAdam of tarmac roads  fame and more recently the outspoken genius of Liverpool FC's Bill Shankly, and latterly SNP founder Jim Sillars.
Ayrshire invented golf resorts too with Turnberry a century ago, and nowadays with son Eric Trump at the helm, Turnberry has emerged from a $200million facelift to make it great again.  Great to stay and great to play and Good Holiday has just returned from a flying visit, where we loved every minute – and particularly the way things have improved since Team Trump took over two years ago. And tons more investment is to follow say Team Trump.
This is again one of Europe's finest golf resorts, and we loved the beautifully scenic surroundings – sea views all the way to Ireland and the island of Arran, and the weather behaved marvellously too, making our great  weekend escape well worth the 900-mile return round road trip from the City of London and the cost of playing and staying at the best. www.trumphotels.com/turnberry
For full report on the golf, the hotel, the classy spa and Ayrshire Royal attractions keep logging on. And see

 

turnberry.co.uk