Hotel gets 10 out of 10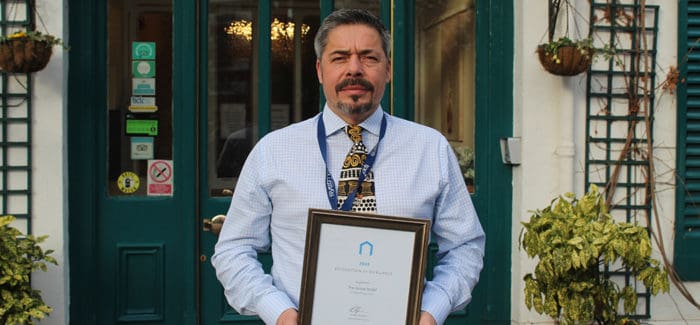 We check out a very rare and caring hotel in Bournemouth.
Here's a hotel with a unique claim – you have to be or have-been very ill to get a room – or be joining friends and relatives who have had Cancer or a life-threatening illnesses.
Bournemouth's Grove Hotel prides itself on being a place where people with cancer and other life-limiting illnesses can come on holiday and make special memories with their family and friends.
The staff are dedicated to providing guests with a peaceful and enjoyable stay, which is highlighted by The Grove's recent win of HotelsCombined Recognition of Excellence Award for the third year in a row. This award was won because The Grove scored an incredible 10 out of 10 for customer satisfaction.
With specialist facilities and qualified non-hands on on-call nurses available 24 hours a day, guests can be expected to be well taken care off by staff who ensure they have all the support and care they need.
A hotel that goes above and beyond, The Grove provides guests with an opportunity to explore Dorset's tourism in their very own minibus. And it specialises in good, honest home cooking and all food is fresh – and served with a smile.
Good Holiday stayed for a few days recently and found the hotel well placed for the beaches and a short walk to the centre and shopping opportunities. We also enjoyed the laid-back and personal touch of friendly and professional staff, a pleasant change from the typical service at many UK  coastal hotels, and we found The Grove much-loved by guests as it continues to make a significant difference in many lives, helping to create happiness in times where happiness is needed most.
The Grove Hotel is a not-for-profit hotel run by the charity, Macmillan Caring Locally. Macmillan Caring Locally was formed in 1974, evolving from the fundraising committee for the building of the Macmillan Unit at Christchurch, the country's first of its kind. Today, the charity owns and operates The Grove Hotel which provides a safe haven for people with cancer and other life-limiting illnesses.
Rates at the Grove for dinner bed and breakfast are from – £399 October to April 2020. May to September 2020 – £574 per week. 2 Grove Rad, East Cliff, Bournemouth BH1 3AU
For more information, visit: thegrovebournemouth.co.uk or call 01202 552233