Escape to the Wild West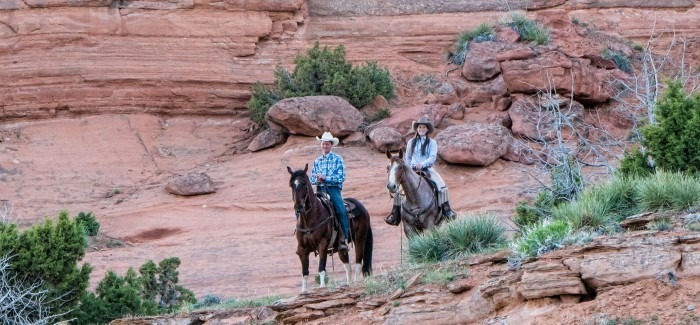 Roving reporter Pietro Simonetti loves his dude ranch holiday.
I'm road roaming in Wyoming in the old Wild West – on a wild safari as the dirt road zig-zags in front of my car, then disappears over a steep hill. I'm on Slip Road, one of those GPS infamous shortcuts that promises to save you 10 minutes and invariably ends up costing you two extra hours of driving. And sometimes burst springs or tyres.
I slow down to soak in the scenery: red bluffs encase rolling hills, cattle scattered like black licorice on the emerald green pastures, deep canyons scar the landscape, wind battered junipers are firmly anchored to the soil while dozen of curious deer stare at me sniffing the air. A magical place for the time being, but there's a winter storm is approaching so I put foot down and after another hour of roller coasting on the gravel road, I arrive to a high plateau with a sea of clouds extending as far as the eye can see. I drop down and It's fog and rain from now on.
By the time I arrive at the Red Reflet Ranch in Wyoming I can't wait for a cup of hot tea and a couch to sink in. Luckily, Laurence and Bob – the owners – are there to greet me and a hot beverage appears. After seven hours of driving from Denver, I see why many travellers choose to fly in comfort and land on the Ranch's private runway. If you can afford it, it's definitely the right approach. Meanwhile exploding sap in the logs make a cracking sound, calming the soul, as fellow guests Linda and Steve are just back from their ATV lost trail – adventure making the atmosphere like an old family reunion. Owners Laurence and Bob must hear all sorts of stories, triumphs and discoveries from their guests, each with its unique flavour and angle, and looking into their attentive eyes they remind me of wise ferrymen in an endless sea of humanity. Chef Clint Loftin produces Michelin quality dish after dish, some from the Ranch's organic produce, while dessert specialist Stephanie Shaw is busy baking cakes, pies, French patisserie sweets and breakfast scones. Owner Bob has hundreds of bottles of wine on selection for guests, and available at all times.
During a hike on the ranch's 31,000 acres I ask Laurence why they chose this area. Laurence replied that it was the love of the land, its stunning beauty and the energy that comes from the rocks and the animals that live in it. She sees herself and Bob as the custodian of this little piece of heaven. In fact, when they first purchased it, they didn't buy it with the intention to turn it into a dude ranch. Their goal was and still is to maintain it as pristine as possible, so that guests from all over the world can experience it as the wild buffaloes saw it hundreds of years ago.
The couple renovated the original Ranch House, then in succession built the horse stables, the Panorama Chalet, the Pond Chalet, the Couple Chalet and finally the main Lodge. Each house has its own personality and distinctive amazing views of the land. The interiors are warm and clean, a mix of old west and modern amenities, such as a hot tub, steam shower, indoor sauna and jaccuzzi. The chalets also have a well-stocked kitchen.
The Ranch offers your traditional dude ranch activities such as horseback riding, target shooting, wildlife viewing, hiking, ATV riding along with some more unexpected treats for children and adults alike in the form of extreme zip lining and water games in a series of cascading ponds.
Being a new experience for me, I decide to try a bit of everything, starting with the cow roundup under the watchful eye of horse guides Jenny and Cody, whose horses and dogs at the ranch are amazing and even inexperienced riders can taste a bit of the wild west while they slowly guide cattle and calves from one side of the property to the next grazing field. Suddenly an elk herd silhouettes above a ridge 100 yards away staring intensely at us before a large bull decides to move the herd on and the ground shakes as hundreds of animals speed down a nearby hill. One of many wild and natural mesmerising experiences at Red Reflet Ranch (named so because Reflet in French means reflection) and I had plenty of time to reflect on daily negatives such as bad economy, board meetings, foreign politics, rush hours and angry commuters – they all seemed far away.
Saddle up girls and get them dudes!
James Hill writes from Ten Sleep, Wyoming
The Red Reflet Ranch featured above is staging a ladies-only Wild West Retreat from May 14-20, when all girlfriends, daughters, university pals and bridesmaids can experience six days of horseback riding, roping cattle, fly fishing, riding ATV's, mountain biking, exploring 100+ miles of trails on the 27,000-acre ranch, firing an array of guns and zip-lining across canyons.
There will be morning yoga sessions, afternoon Pilates and outdoor meditation classes. All will indulge in gourmet farm-to-table cuisine, fine wine and desserts for the all-inclusive luxury package price of $1,950 per person.
inquiries@red-reflet-ranch.net