Festive-feel Beaulieu stars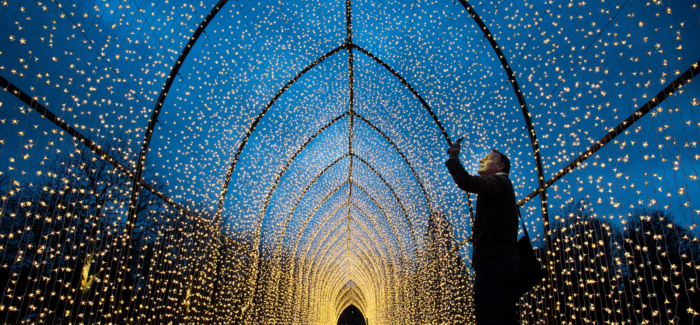 As a million lights dazzle New Forest.. read more from Editor John Hill in Tiptoe, Hants..
After months of planning the very first Christmas at Beaulieu has opened with a switch-on of over a million lights in the grounds of the New Forest attraction, which includes the National Motor Museum.
The resort has been transformed with over 11 installations on a mile-long shimmering trail with –
Over 437 theatrical lighting units and
11 miles of power cable to create the magical Christmas at Beaulieu 
Lord Montagu said: "The gardens of Palace House are usually difficult to appreciate in the dark winter evenings, so this first illuminated trail is presenting the landscape in a new, magical light. The varied forms of illumination, changing scenes and music really accentuate the Christmas atmosphere in different ways, and I am looking forward to seeing people's faces light up as they make their way around the trail.

Visitors will marvel at the 200ft long Cathedral of Light with a tunnel of 30,000 bud lights and the Canopy of Lights with over 20,000 twinkling pea-lights. A musical installation set to the tune of The Twelve Days of Christmas will play over 2,200 times during the event and Father Christmas and his elves will give 1,110 performances to greet visitors from the roof of Beaulieu's veteran bus.
Then there's the  Fire Garden – more than 180 flickering torches which will use as many as 5,132 individually hand-made candles by Christmas.
Along the Icicle Walk, larger-than-life gleaming shards guide visitors towards the Meadow of Light where thousands of fibre optics light up the tree-lined Mill Pond Walk on the banks of the Beaulieu River. There are hidden surprises too – watch out for frosty snowflakes, shimmering stars and trees awash with seasonal colour.
A fabulous finale awaits trail end with larger-than-life illuminated trees. Rising high into the night sky, visitors will finish the breath-taking trail with a cheerful Christmas blast of colour, sound and light.
So for a Disney-style Christmas, the event lasts on Christmas Eve. #christmasatbeaulieu
Chitty makes a big bang at Beaulieu – keeping watching this space.