Smutty local names like, twatt, shag, arse,  top our rude titter list. Read more..
Prepare to giggle at the smutty rural village names that raise a laugh all over Britain. There are nearly 2,000 odd place names but happily not all rude or smutty – though having travelled extensively over Europe yet again we are the best.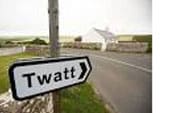 Starting at the top in the Orkneys locals proudly announce they are from Twatt. Country-wide  there are scores of  cheeky Bottoms – from Happy Bottom, Dorset, to SlapBottom in Hampshire to the disgusting  Rotten Bottoms who live in this Dumfries hamlet.
Whilst we should give it the bum-steer Bottoms are top of the giggle-list with such names – Great Bottom Flash in Wilshire, Rough Bottom,  Rotten Bottom, Bottom Burn, Lickham Bottom, Devon, and another tongue-twister Butts Bottom, but worse we suspect is in the Peak District where the Devil's Arse is a road less-travelled. A short drive away over the Pennines, past Penistone  you'll have a titter at Tickle Cock Bridge.